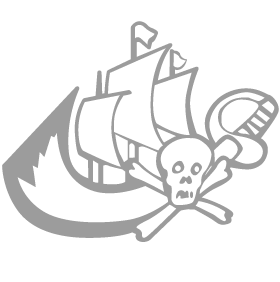 The Comparsa de Piratas was founded in 1945 by a group of friends, (Pedro Maestre, José Miguel Bañón, Pedro Candelas, Juan Miralles, Pascual Vera Juan, Pascual Vera Rico, Pedro R. Loreno, Ventura Garcia, José Vidal, José Amat Jover, Vicente Valero).
Although it was founded in 1945, its participation in the festivities did not take place until the following year "1946", and according to the official magazine of 1953 it was included in the Christian side. It is in the year 1948 when it passes to form a part of the Moorish side, remaining in this one until the year 1972 where it is framed definitively in the Christian side where it has remained until today.
The design and manufacture of the official suit was commissioned in Alicante to D. Tomás Valcárcel, counting the same of the following items: old gold shirt (never called D. Tomás comma yellow), black velvet pants, boots with turn all leather split, sash and blue scarf. Later on, changes were made.
Web Site
Capitanía Infantil 2020
María Sánchez Saura y Jaime González Sánchez
Capitanía 2020
Laura Riquelme Rico y Carlos Seva Cortés