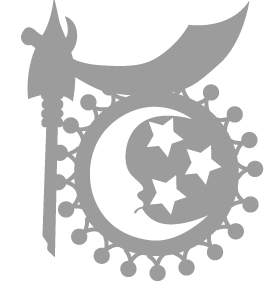 For more than half a century we have been with the spear in our hands.
Our origins
When it comes to finding the origins of the realist Moors of Elda, like almost all the groups in our town, we have to look in Villena for the roots of the Fiesta.
In September 1943, Octavio Moreno González, a traveller from Elda who wore shoes, quickly fell in love with the splendour of the parades and the joy of the festivities. He even donned a realist's suit from Villeneuve, and if he had any doubts left, he cleared them up by stating: "In my town we have to found a Moorish troupe".
When he returned to Elda, he told his experiences to his brothers Manuel and Francisco, as well as to his good friend Francisco López Cerdán, whom everyone would later call "Don Din" because he managed the money of the Comparsa.
Web site
Capitanía Infantil 2020
Laura Roig y Hugo Berenguer García
Capitanía 2020
Sonia Blázquez Huedo y José Albert Tornero