Headquarters
"House of Rosas"
---
At present the Central Board of Comparsas has a headquarters located in the central and emblematic New Street, precisely in the building located at number 8 of that street, the popularly known as "House of Roses" or the "City of Roses", which for years housed this family known in the city and its particular business of storing and selling skins. In this house lived during some years of their life certain characters that had an artistic repercussion in our town: the caricaturist Oscar Porta, married with a daughter and the owners, and the writer José Capilla.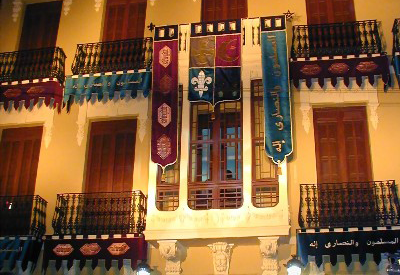 This modernist building, built in the early years of the 20th century, has been acquired by the Town Hall and its interesting façade has been restored. On the remaining site, a functional headquarters and magnificent facilities have been built to house not only the administrative functions and the meetings of the festive entity, but also a very well equipped assembly hall and exhibition rooms where the activities of the comparsas and the Junta Central itself take place.

On January 17, 2002, the feast of San Antón, the first stone was laid for this new venue, which opened its doors during the Media Fiesta of 2003. On January 10th, with the assistance of the Bishop of the Diocese Don Victorio Oliver, expressly invited, and the Mayor Don Juan Pascual Azorín, Councillor for Festivals, President of UNDEF and President of the Central Board, this new festive venue was inaugurated. A reception in the plenary hall of the City council, where they were delivered by the Mayor some commemorative pictures to authorities and groups, gave step to the parade that opened the flag of the Central Meeting and the standard bearers and captains of the Celebration of 2002, with their respective flags, up to the new house. After the words of the bishop, mayor and president of the Central Board from a rostrum erected ad hoc and with the images of the rehabilitation of the house that were projected on a giant screen installed there, the authorities proceeded to cut the ribbon and unveil a commemorative plaque, while the Santa Cecilia Band played the pasodoble Idella.
The new headquarters is distributed over three floors, a basement and a large interior courtyard housing, among others, two meeting rooms, offices, an archive, two exhibition rooms, an assembly hall -with a capacity for a hundred people-, lavatories and various storage rooms and a warehouse. In short, this is the headquarters of the Central Board that the Festival, by category achieved and by the profusion of cultural and festive activities, already demanded, and that has been possible thanks to the tenacity and enthusiasm shown by the then Mayor, Don Juan Pascual Azorín, who at the head of the corporation has been the architect of this immense achievement of our institution and the city of Elda itself.
Gallery of Photos
---